What's reviewed in this article is Sky Organics Rosehip Oil benefits on face and skin in general.
Read on for more information.
Product Summary & Claim:
Product Name; Sky Organics Rosehip Oil.
Uses: Moisturizes, hydrates, promotes even-skin tone and glow, antioxidant
Product Highlights: Does not clog pores, cold-pressed oil, cruelty-free, USDA Certified Organic
Skin type: All skin types
Where to buy: AMAZON
Cost: $57.15
(As an Amazon Associate I earn from qualifying purchases. Full disclosure…)
What's Covered in this Review
I'll be looking at the pros and cons of Sky Organic Rosehip Oil. I'll also be showing you what's you need to know about Rosehip Oil generally. In addition, I'll look at whether Sky Organic Rosehip Oil matches up to standard by reviewing the experiences of verified purchasers. Finally, I'll be providing you with my verdict on whether this product is worth it take into account various key elements.
About Sky Organics Rosehip Oil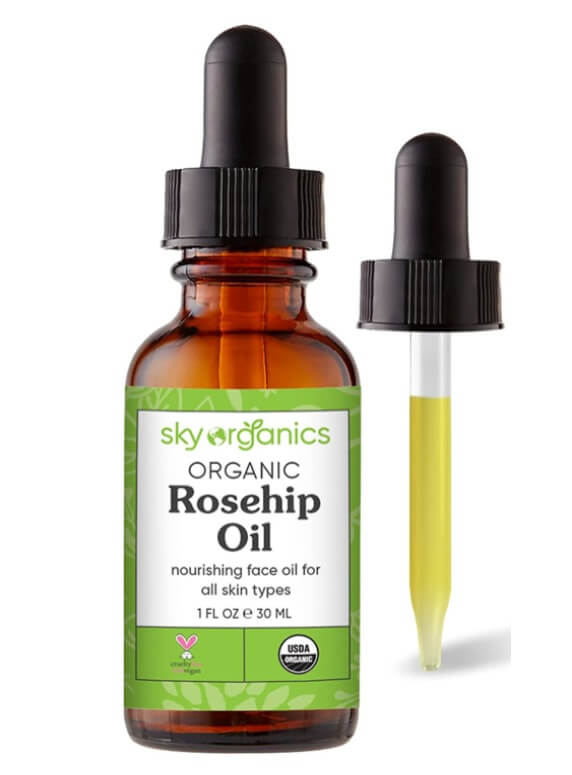 Are you dissatisfied with the skin care products you are currently using? Have you ever had a reaction from the skin care product you have used? Or are you looking at going organic due to an increased awareness of the health and skincare benefits of organic products?
This is where Sky Organic Rosehip Oil comes in.
Let's consider these 5 questions and answers.

How do Sky Organics extract their Rosehip Oil?

Sky Organic Rosehip (Rosa Cana) seed Oil is an all natural oil that utilizes cold press method to extract its oil from Rosehip seeds.
What's cold press extraction about?
Cold press extraction process involves a mechanical and environmentally friendly method of extracting oil. This means that the oil has not undergone refining process such as addition of chemicals or use of heat.


What makes cold press better than refining process?
Unlike refining process, it does not add chemical or use heat. This means the active ingredient in the oil has not been altered. It also means that these ingredients will be more effective when you use them in their actual form.

What are the skin benefits claims of Sky Organics Rosehip Oil?
Sky Organics claim that its product has antioxidant effects, as well as moisturizing, hydrating, nourishes, does not clog pores and gives you an even-looking skin. It also exhibits antioxidant effects.
In other words, if you have acne or other inflammatory skin conditions such as eczema. Its antioxidant effect can help with combating certain skin conditions such as winkles, fine lines. It also means that you will not worry about clogging of your pores since clogged pores can lead to acne. They are also inferring that your skin tone will look more even with this product, especially if you have dark spots from acne scars or sunburn.
How safe and healthy is Sky Organics Rosehip Oil?
Finally, Sky Organic Rosehip Oil has USDA certification as an 100% pure organic product and is cruelty free. It's also without fragrance.
Ingredients in Sky Organics Rosehip Oil?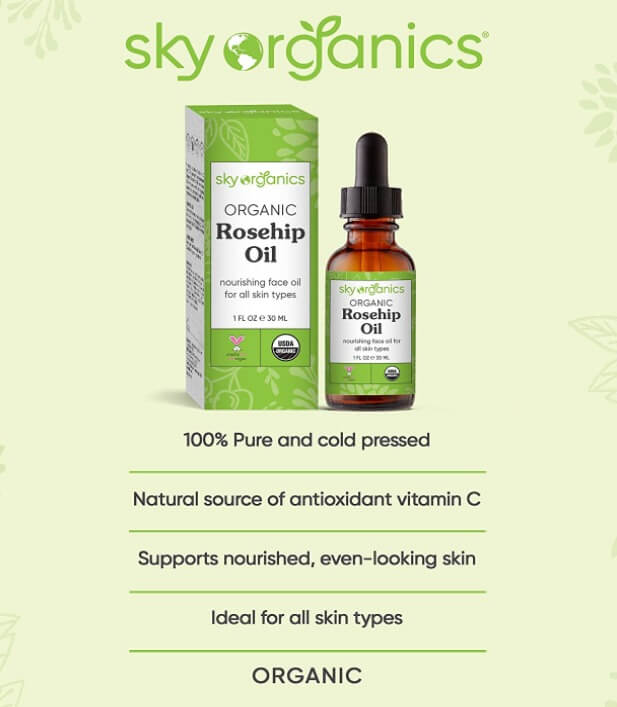 Rosehip Oil contains the following ingredients.

Fatty acids
Rosehip Oil is high in linoleic acid, followed by alpha linoleic acid and then oleic acid. These fatty acids are beneficial for your skin health in many ways.
The fatty acids contained in Rosehip oil have very high antioxidant and anti-inflammatory effects.
Considering that they are occlusive in nature, they help to hydrate the skin and enhance the skin barrier function.
Vitamins
Rosehip Oil contains high amount of vitamins (A, C and E) with antioxidant effect.
Phenolic acid
Rosehip Oil contains phenolic acid that also provide powerful antioxidant effect. Phenolic acid helps to promote even skin tone, reduces spots/hyperpigmentation and reduces damage from sunburn and has anti-aging property.
Synergistic effect of fatty acid and vitamins and phenolic acid
Although the antioxidant property of these fatty acids in Rosehip Oil is stronger than that of the vitamins, these vitamins work in synergy to enhance the anti-inflammatory and antioxidant effect of Rosehip Oil.
The combination effects of the fatty acids, vitamins and phenols in Rosehip Oil help to fight sunburn, reduce the effect of UV ray, fight off photoaging, prevent and treat inflammatory skin conditions such as acne, eczema etc. They also help with giving even skin tone.
Pros and Cons
Pros of Sky Organic Rosehip Oil.
Moisturizes and hydrates the skin.
It brings suppleness and glow to the skin.
Repairs the skin.
Lightens the skin – reduces hyperpigmentation.
Reduces scars and fine lines.
Anti-inflammatory/antioxidant effect makes it ideal for acne affected and acne prone skin.
Non greasy and does not clog pores.
Non greasy under make-up
The texture is light, smooth and glides well the skin.
It comes with a dropper.
Cons of Sky Organic Rosehip Oil
It doesn't smell flowery in case you expect it to smell like roses. For lack of a better word, it smells like tea.
Although it claims it's for all skin types, some people with sensitive skin haven't had the best experience with it, so experience may vary based on your skin type.
You probably need to use with another oil or moisturizer to enjoy all the benefits of Rosehip Oil, especially if you have dry skin.
Global reviews of Verified Purchasers on Amazon
Based on 570 global reviews on Amazon, it has a 4.5 of 5 star rating.
For MORE global reviews of verified users, go to AMAZON.
Here's a few reviews;
Stephanie from Amazon;
Stephanie says that she has dry, dehydrated, acne prone and hyperpigmentation following inflammation. She said she has benefited from the moisturizing property of Sky Organics Rosehip Oil.
"I have dry, dehydrated, and acne prone skin that's also prone to post inflammatory hyperpigmentation.
I've read that Rosehip Seed Oil is good for scarring as well as acne prone skin so I decided to give it a try.
I mix this Rosehip Seed Oil with Tamanu Oil in a separate bottle and mix my oil concoction into my moisturizer at the end of my routine. The combination of the two oils has helped to moisturize my dry skin without leaving an oily film or greasy feeling. I'm not sure if it's helped with my scarring yet but the moisturizing properties have definitely made my skin feel more comfortable.
I've subscribed to receive this bottle every two months so I'll continue to monitor if it helps!"
Momasham from Amazon
Momasham says that it helps with getting rid of scars and doesn't leave the face oily.
"I've been thrilled with Sky Organics since they appeared on the market. Always a quality product and excellent customer service! This Rosehip seed oil is fabulous for assisting with getting scars. Works great on face without leaving an oily feeling!"

S. Chan from Amazon
S.Chan says that Kate Middleton (Duchess of Cambridge) uses Rosehip Oil, so she decided to try Sky Organic and has seen that her face and hands have become soft, supple and youthful.
"I read an article that the Duchess of Cambridge (Kate Middleton) uses organic rosehip oil for her face so I got this and yep, she's onto something! The skin on my face and hands is soft, supple, and youthful looking! This (along with a bee magic based cream) are all I need for wonderful skin."

Morgan Stewart from Amazon
Morgan's experience with the Oil wasn't pleasant. She says that it makes her skin bumpy and uneven.
"Make my skin bumpy and uneven after a few days, changed back to old product and bumps went away. Disappointed as I've heard so many great things about the benefits of this oil. Expensive for the amount of oil, can't return. A big swing and miss for me."
How to use Sky Organics Rosehip Oil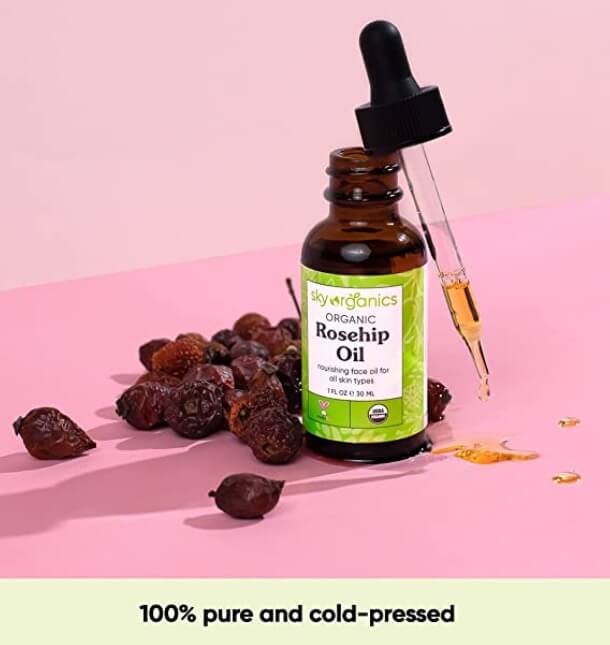 Cleanse the target areas of your skin (e.g. face, neck or any other problem area). Dispense 2 to 3 drops on your hand. Gently massage onto target areas.
You may mix with your regular moisturizer to enhance its moisturizing effect.
Apply morning and night.
Conclusion: How I feel about Sky Organics Rosehip Oil
Sky Organics Rosehip Oil delivers on its promises. You can use it on problem skin such as wrinkled, dry, oil, acne affected or acne prone skin. It has a global rating of 4.5 out of 5 star global rating on Amazon. This rating is based on over the experiences and feedback of over 500 verified purchasers.
However, it's evident that users experiences vary, since all skin types aren't the same.
If you are just looking for a product with flowery smell, this is not for you.
If you have sensitive skin or never tried Rosehip Oil before, you may want to apply a small amount on the inside of your arm for a few days and see how you react, before apply it on your face.
I like to read your feedback. Please leave a comment BELOW and I'll get back ASAP.